Hey Family!
We've got some AWESOME updates for you today!
Every time you publish your harvest in a diary, you are asked to grade the strains and nutrients you have been using in a particular GrowDiary. Well, we have decided to put it all up in a new fantastic and more useful, in our opinion, way. Now the ratings of any active diary strain will be automatically added to the average grading score of a strain, which you will be able to see in the new Breeders section. In turn, the final score of each strain will be added to an average breeder's score. Now you will be determining what place a particular breeder will take in the rankings. Exciting! Due to that, we will require you to evaluate strains when publishing your harvests. Please be aware that the ratings of strains will completely depend on you now, so be wise snapping those stars!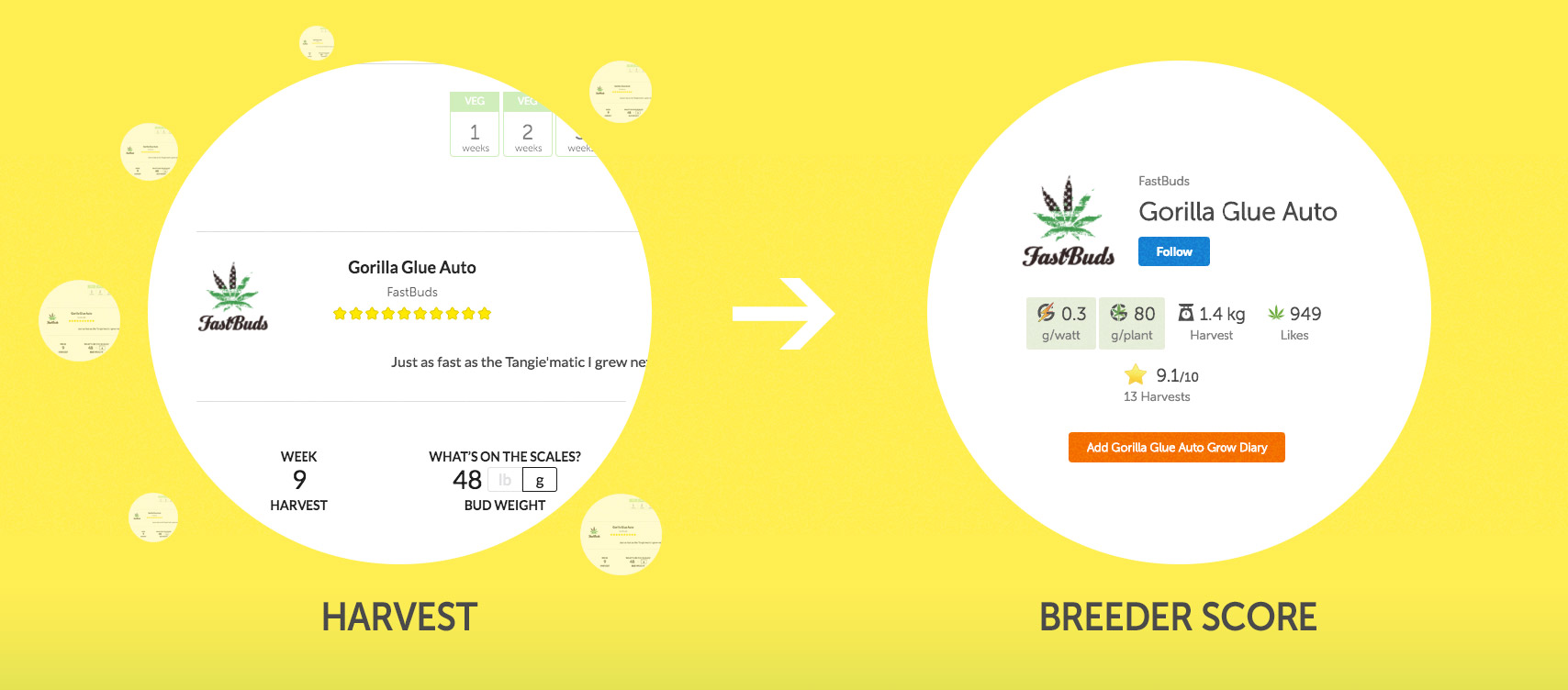 Basically, the more diaries appear on GrowDiaries, the more statistically correct data appears in the ranking.

Meet our new consolidated indicators of g/watt and g/plant for the Breeder and Nutrient manufacturers!Just so you know, the indicator digits are calculated using the average score of the harvests data of the corresponding breeder and strain manufacturers. These indicators will now be here to help you compare breeders and their strains. Also, we added the same indicators for each grower :) Just because we can. That is not even it, growies! We also included data tables to show you how the strains behave when using different types of lamps and grow mediums. You can find those in the Statistics section on the Breeder/Strain page.
All the data is calculated based on your diaries!
To further highlight the idea of how much you will be contributing to the ratings and to the newly updated sections of Grow Diaries, we would like to specify two conceptually important aspects that will help us to improve your experience using our Web! The first one is the Harvest. Here you can see the exact info about g/watt and g/plant data and the total amount of the harvest collected.
And the second is your amazing informative reviews of genetics, your stories and emotions. We believe that, thanks to these two new features, our users will now be able to get a better idea of how the GrowDiaries participants evaluate breeders, genetics, and fertilizer producers.
Analyzing you feedbacks we now decided to ask you to comment not only on an individual product, as it used to be earlier but on the fertilizer producer itself. We believe that this way your reviews and feedbacks will be more helpful to the other growers while deciding which products to use in their own GrowDiaries. At the same time, we also value your one-to-five star evaluation of each bank. This helps us to correctly calculate the ratings, so cheers to that, guys!
We were so excited to post these updates because finally now most of the data on GrowDiaries seems complete and logical. What do you guys think about the new changes? What ideas do you have considering the two new sections of the website? How do you feel about the rating and the new g/watt and g/plant system?
Please let us know in the comments below. We are always happy to hear back from you. And please stay tuned to our Journal updates!
Peace, my Growers