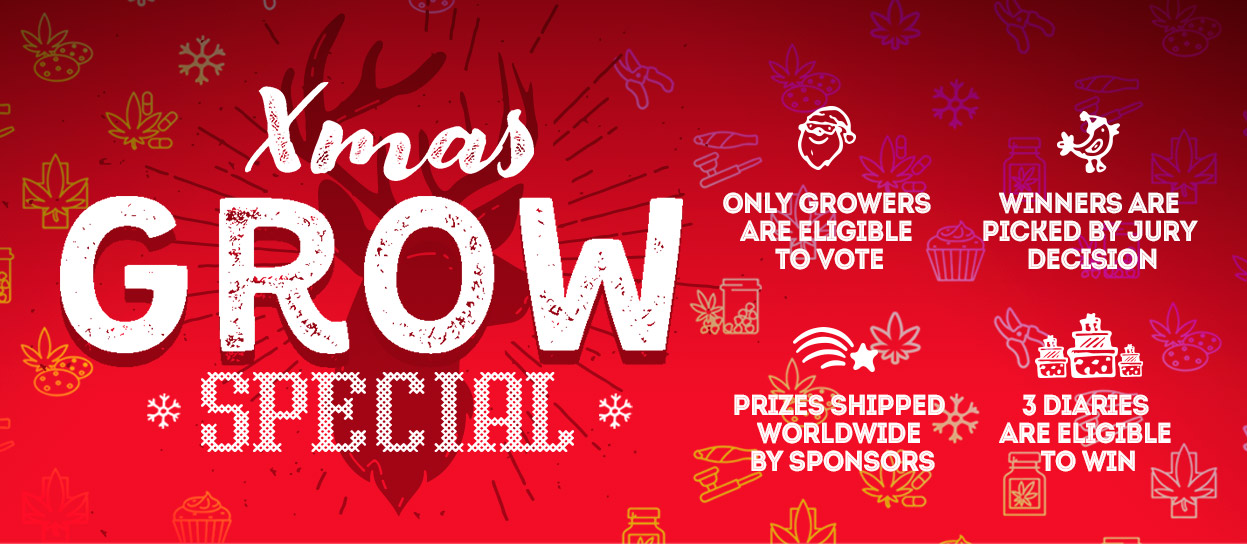 Hello Growers!
Winter is here and it means TWO things: Indoor growing and Christmas Holidays! Both are pleasant as hell (sorry Jez) and both are possible here on GrowDiaries!
The Xmas contest is OFFICIALLY launched! Decorate your trees and start uploading videos! The prizes are just unbelievable.
Each of THREE WINNERS will get:
Mephisto Genetics
2 x t-shirts of different designs
1 x mega sticker pack
3 x 18 seed packs of Artisanal Strains
Winners choice of:
3 Bears OG
4 Assed Monkey
Cosmic Queen
Creme de la Chem
Sour Livers, Skywalker
Sour Stomper
Northern Cheese Haze
Cellmax
1L Cellmax Grow or Bloom depending on medium (winners choice for: Hydro,Coco,Organic or Terra)
1L Cellmax Rootbooster
1L Cellmax Flowerstimulator
1L Cellmax PK-booster
1L Cellmax SuperEnzymes
Any Size Cellmax Hoodie
100x100x200 pro white Budbox
Fast Buds
2 x 5 Girlscout Cookies
2 x 5 Northern Express
2 x 5 California Snow
2 x 5 Fastberry
1 x Fast Buds T-shirt
1 x Fast Buds Hemp T-shirt
Female Seeds
1 pack of 10 seeds of Auto NL
2 packs of 10 seeds of White Widow x Big Bud
2 packs of 10 seeds of Sex Bud
1 bottle of BioQuant Final PK
1 Female Seeds t-shirt (available in green and white)
WOW! Stoner Santa is very generous this year because you, Growers, are the best! START uploading your videos, we can't wait to see the first ones to show up!
Oh yeah, the contest comes with a couple of rules actually...
-Confirm account via email
-Have at least one Diary
-Upload your Xmas Special video to your Diary (hey, don't forget that it's gotta be a SPECIAL Christmas Tree, ok? I mean... a weed plant, yeah?)
-Join the contest
Who's in? Comment BELOW!
The name of the FIRST judge will be revealed very soon! Excited?
Peace,
GD Team